The 1902 is a versatile modular unit designed to work with modern computer-controlled data acquisition systems. Developed for a broad range of applications, the 1902 accepts biological and instrumentation signals from a wide variety of sources.
It is available in single or multi channel configurations. Communication with the computer is achieved through a serial line, allowing multiple sets of units to be controlled simultaneously.
Software controllable features
Programmable gain with readback
Dynamically controlled 12-bit offset
AC/DC coupling
Selectable high and low pass filter settings
Selectable mains notch filter
Optional input clamping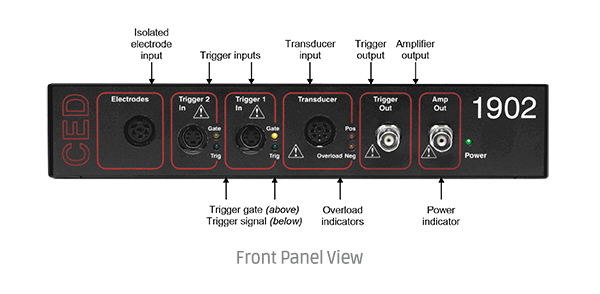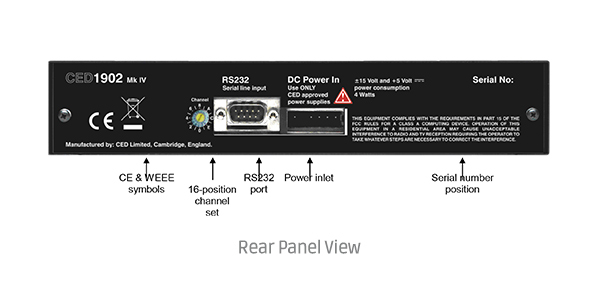 A major advantage of programmable amplifiers is the degree of interaction between the signal conditioner and the application software recording the data. The 1902 is directly controlled through the CED data acquisition and analysis programs Spike2 and Signal, or through a stand-alone control application.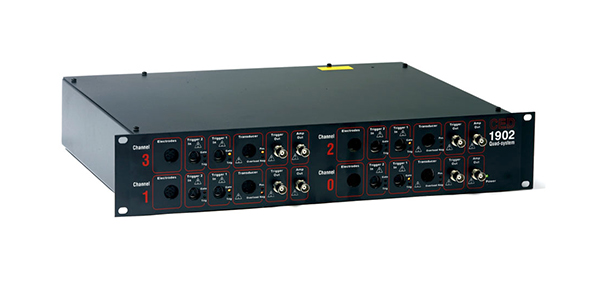 Each 1902 is a single channel modular unit, but they can be combined into
stacks to give multiple channels or supplied as dual or quad channel variants
with optional rack-mounting. Multiple stacks, dual or quad channel units can
then be 'daisy-chained' together to give the number of channels required.