Symbiotic Devices offers a comprehensive range of caps to suit most applications. In order to reach an optimal fit, a complete range of 12 different sizes is available, choose between Asia or Caucasian Cut, as well as several colours and number of contact points.
Caps are compatible with most EEG Amplifier Systems in the market as well as TMS, MEG & MRI Compatible.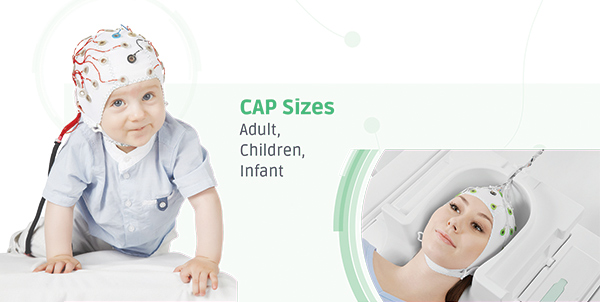 Layouts:
International Layout: 10/20 System Electrodes are
distance of 10% or 20% from Cz down to the hat line.
Specialized Equidistant Layout: Electrodes are equidistant to each other via trigonometry calculation.

Cap Cuts:
Both cap types, Subtemporal and SubInion, are available in two cap cuts. One cap cut provides a better fit for more oval/rectangular head shapes and is commonly used worldwide (called "Caucasian cut").
The other one is cut for rounder head shapes and typically provides a better fit for participants from countries like e.g. Korea, China, Taiwan and Japan (called "Asia Cut").
Cap Fabrics:
All caps can be made with your choice of two different types of fabric: high-precision fabric and high-comfort fabric.
High-precision fabric is of medium elasticity and has advantages in that it provides a precise reproduction of electrode positions, a longer life span and a quick drying time.
High-comfort fabric is of higher elasticity and works with a variety of head shapes. In the majority of caps, we use the high-precision fabric for adult and juvenile cap sizes and the high-comfort fabric for baby cap sizes.