The GCX EMG Cart is the first cart on the market to provide a seamlessly integrated EMG and Neuromuscular Ultrasound solution.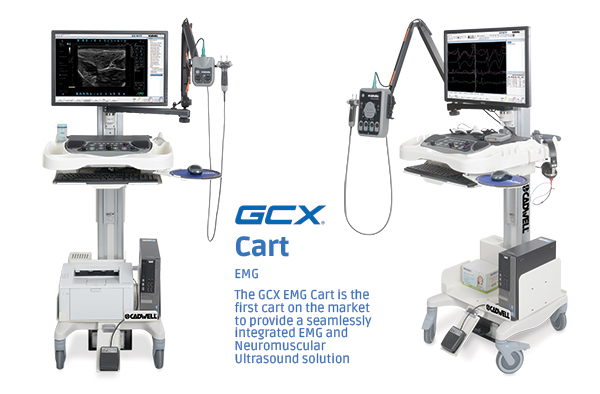 Features:
• The worksurface integrates the Sierra Summit base unit, ultrasound probe holders and cable hooks, built in holders for bottles of ultrasound and conductive gel and side pockets on the left and right side of the cart.
• The EMG Cart uses high quality VHRC Series cart line components from GCX
• Ergonomic front handle making for easy cart positioning.
• The cart comes standard with one mouse shelf, upgradeable to two mouse trays – both sides.
• The EMG cart supports Laptop, Small Form Factor, Mini PC, or All-in-One computer configuration.
• Flexible side-to-side amplifier arm mount positioning.
• The EMG Cart can be equipped with either a 2 or 12 channel Sierra Summit amplifier arm and supports two different monitor mounts.
• Arm mount-internal cabling provides excellent cable management.
Learn more – Carts Selection Catalogue