PROPixx
The PROPixx is a unique DLP LED projector which has been designed to be the most flexible display possible for vision research. The PROPixx features a native resolution of 1920 x 1080, and can be driven with refresh rates up to 1440 Hz with deterministic timing. The PROPixx uses high brightness LEDs as a light source, giving a larger color gamut and much longer lifetime than halogen light sources (60,000 hrs vs 2,000 hrs). Our LEDs also support high bit depth, and high frequency full color stimulation, which would not be possible with a color-wheel/halogen architecture. For stereo vision applications, our high speed circular polarizer can project stereoscopic stimuli for passive polarizing glasses at up to 400 Hz.
The PROPixx also includes an array of peripherals which often need to be synchronized to video during an experiment. These include a stereo audio stimulator, a button box port for precise reaction-time measurement, triggers for electrophysiology and eye-tracking equipment, and even a complete analog I/O subsystem. You can now successfully synchronize all of your subject I/O to video refresh with microsecond precision.
The PROPixx is available with multiple projection lens options including short-throw lenses for CRT-replacement applications, and long-throw lenses for MRI/MEG applications.
As with all VPixx Technologies products, the PROPixx is field upgradable. If you need a new feature in order to follow some exciting new direction in your research, we can develop the functionality in our labs, then email you an update for your PROPixx.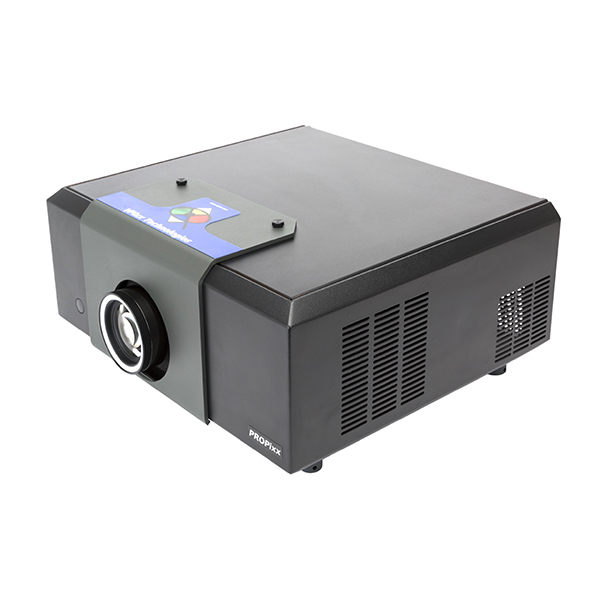 SHIELDPixx
The SHIELDPixx is a complete MRI compatible shielding enclosure in which you can install multiple electronic devices so that they may be used safely in an MR room. The SHIELDPixx is optimized for reduced EMI at the frequency operation of a 1.5T, 3T or 7T scanner.
A power isolation station is also supplied with the SHIELDPixx allowing electronics devices in the SHIELDPixx to be compatible and comply with safety standards in an MR room.
Also, the SHIELDPixx enclosure includes the StudioPRO Extender powered by Thinklogical's®.  The StudioPRO Extender DVI Extension System transports every frame of a DVI video stream seamlessly with no compression or dropped frames.  In addition, all high speed peripherals function with no latency. Using standard SFP+ transceivers, the system uses multi-mode or single-mode fiber optic cable that allow you to place a digital monitor or projector up to 1000 meters (3280 feet) away from the controlling computer without loss of resolution.